Meet the Staff
Connect with the Skin Care Professionals in Culver City, CA
Ramin Sarshad, MD
A graduate of George Washington University School of Medicine who completed his residency at Loma Linda University, Dr. Sarshad has been the Medical Director of Cosmetique Aesthetics since 2005.Dr. Ramin Sarshad aims to provide only the highest quality aesthetic treatment for his patients. In practice for over 20 years, with a focus on aesthetics for over 12 years, he earns the trust of clients by applying exceptional standards of operation with his passion for artistry.
An advocate for enhancing appearances ethically, Dr. Sarshad administers his talent and vision with only FDA approved products and technology that have a track record of success… Learn more about Dr. Sarshad
Read nicole l.'s review of Cosmetique Aesthetics on Yelp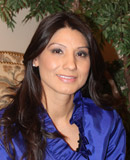 Rose Flores-Gomez
Medical aesthetician, Aesthetic Consultant, and Surgical Coordinator
Rose's primary role at Cosmetique Aesthetics is to enhance the quality of skin for our patients through services such as facials,microdermabrasion, chemical peels, body contouring, and more.
As a Aesthetic Consultant, she meets with Cosmetique Aesthetics' patients by appointment, and consults on skin care needs, that are tailored to each individual person.
Her warm smile, kind heart, and attention to detail has made her a phenomenal Medical Aesthetician. In addition, Rose's patient advocacy has made her a wonderful asset to our team. Rose is also a patient care consultant for all our Spanish speaking patients.
Contact us to learn more about the aesthetic procedures offered by Cosmetique Aesthetics.