ALMI All Natural Skin Rejuvenation Procedure
Cluver City's Almi All Natural Skin Rejuvenation Procedures
Cosmetique Aesthetics is excited to offer ALMI, a revolutionary skin rejuvenation procedure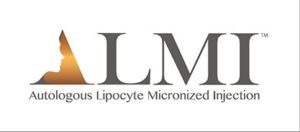 ALMI, which stands for Autologous Lipocyte Micronized Injection, is one of the most preferred skin rejuvenation procedure by Dr. Sarshad. Our
Culver City ALMI fat grafting procedure is an all-natural, minimally invasive treatment that uses your own cells and tissues, rather than synthetic fillers, to restore a more youthful appearance,improving volume,texture and tone.
The all-natural procedure is a simple outpatient treatment that can turn back the clock in less than 45 minutes. Call Dr. Ramin Sarshad,MD now @ (310) 837-5555 and make an appointment for a free consultation
to learn whether this revolutionary skin rejuvenation procedure is right for you.
ALMI Procedure, Most Common Areas of Treatment
Nasolabial folds (Smile lines)
Vertical lip lines
Vermillion border (Lip border)
Oral commissures (Marionette lines)
Cheek volume
Scars and depressions
Lip volume
Chin and jaw volume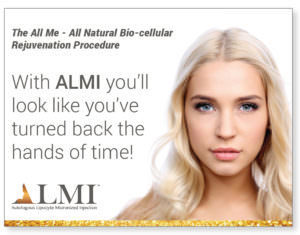 ALMI Versus Traditional Skin Rejuvenation Treatments
Our ALMI fat grafting Culver City patients see remarkable results quickly, and the simple, 45-minute outpatient procedure has the potential to match or exceed the reputation of traditional skin rejuvenation treatments.
Combining ALMI With Other Procedures
The ALMI procedure can be combined with other procedures or done alone. Our Marina Del Rey ALMI fat grafting procedure
is customized for every patient depending on his or her particular needs. Having said that, it's important to add the disclaimer that it cannot stop the aging process or prevent more wrinkles from developing with time.
What Can I Expect After ALMI?
There will be a mild to moderate amount of discomfort associated with the procedure. This should be easily controlled with oral medications.
Severe pain is rare; if you experience this please contact us immediately at 310-853-6032.
Risk Associated With the ALMI Procedure – Fat Injection
Every minimally invasive procedure involves a certain amount of risk, and it is important that you understand the risks involved. As individual's choice to undergo a procedure is based on the comparison of the risk to potential benefit. Although the majority of patients do not experience any problems, you should discuss potential complications with Dr. Sarshad to make sure you understand the risks of infection, scarring and unsatisfactory results.
With Dr. Sarshad's skills and experience, you will get the look you've always been wanting. Contact us for the best results in
ALMI fat grafting Marina Del Rey and Culver City have to offer.
ALMI Patient Testimonials