Questions You Should Ask About Botox and Dermal Fillers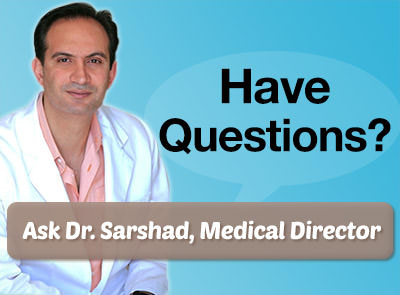 Underlying facial muscles create wrinkles by pulling on the skin; injecting a purified form of botulinum toxin into those muscles causes them to become weak, which prevents them from pulling, thus reducing wrinkling.
Dermal fillers, such as Restylane, Perlane, Juvederm, and Radiesse, are used to add volume back into many areas on the face that have lost firmness and volume over time. Most commonly, these are the lips, cheekbones, and chin, however, there are many other areas that can benefit from this treatment as well. Dermal fillers can also be used to help eliminate wrinkles, but this is not their primary function.
So, what do you need to know about these treatments prior to seeing your Cosmetic Practitioner? Here are some frequently asked questions and answers that may help you be as informed as possible to get the most out of your initial consultation.
"How should I prepare for a Botox treatment?"
There is no preparation needed for Botox. Just bring your wrinkles with you, and you're good to go.
"Do I need to do anything before receiving dermal fillers?"
Yes. For the two-week period preceding dermal filler treatment, you should avoid using certain supplements and medications. Ask Dr. Sarshad for more details.
In addition, you should avoid drinking alcohol in the 24 hours prior to treatment. Alcohol can thin the skin and make you more likely to bruise.
"What do I need to tell the doctor before my treatment?"
Inform your Physician of any medical concerns you may have as well as your medical history. This will allow the Doctor to properly assess your concerns and recommend that best course of treatment for you as possible. For example, If you are prone to cold sores, you should mention this; the doctor may want to prescribe medicine to prevent future outbreaks.
"How long after treatment can I go on vacation, or to my high school reunion?"
Treatment with Botox results in little to no swelling or bruising, so you can resume your normal activities immediately upon leaving our office!
Dermal fillers may cause some swelling and a little redness, depending upon the area treated, so you may experience a few days of "downtime" after treatment. Lips, for instance, may swell for a week or so after the procedure, while "smile" or "laugh" lines (technically called nasolabial folds) might produce no swelling at all.
At Cosmetique Aesthetics, we offer our patients a no-cost, risk-free initial consultation to discuss your needs and answer your questions. Our highly-trained Aesthetic Consultants want to help you find the appropriate services and treatments to get you back to feeling like your old self. So, call us for an appointment today!
Learn about dermal fillers and call us at 310-837-5555 to learn more about what of our dermal fillers may be right for you.
[wpseo_map width="700″ height="400″ zoom="-1″ map_style="roadmap" scrollable="1″ draggable="1″ show_route="1″ show_state="0″ default_show_infowindow="1″]