JUVÉDERM VOLBELLA® XC
Juvederm Volbella – Lip Augmentation Treatment in Culver City
Would you like to add subtle volume to your lips? OR soften the appearance of your vertical lip lines? Are you looking for natural looking and long lasting results?
Cosmetique Aesthetics is excited to offer our lip injections in Culver City treatment using JUVÉDERM VOLBELLA® XC, for lip augmentation and for correction of perioral lines. In clinical trials, JUVÉDERM VOLBELLA® XC can help increase lip fullness and soften the appearance of lines around the mouth. JUVÉDERM VOLBELLA® XC is formulated with VYCROSS® technology which blends different molecular weights of hyaluronic acid to contribute to the gel's duration.
JUVÉDERM VOLBELLA® XC is the first and only FDA approved dermal filler proven to increase lip fullness and soften the appearance of vertical lip lines up to 1 year. Here at Cosmetique Aesthetics, we deliver arguably the best results in lip fillers Culver City and Culver City have to offer. Contact us at (310) 837-5555. for a complimentary consultation and learn whether this dermal filler may be right for you.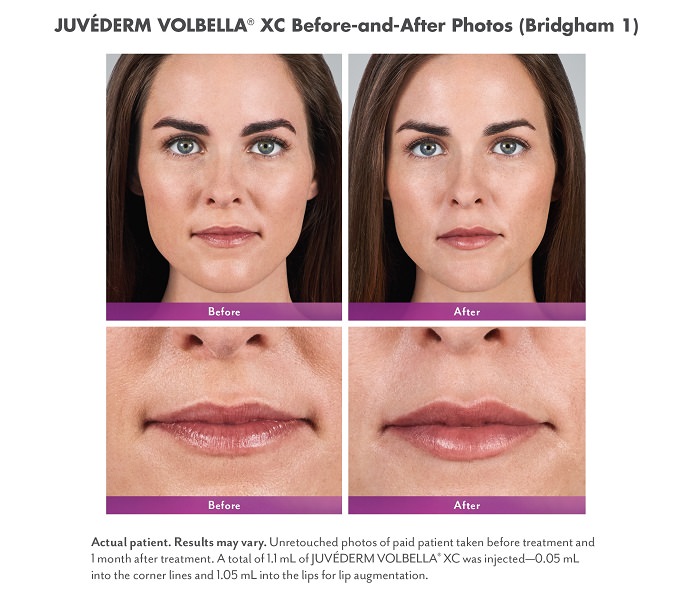 Photo courtesy of Allergan
What is JUVÉDERM VOLBELLA® XC?
JUVÉDERM VOLBELLA® XC is a soft, injectable, crystal-clear gel, which is why it feels so natural for the sensitive area around the mouth. It is made from hyaluronic acid, which is a naturally occurring substance in the body that keeps skin moisturized and soft. The VYCROSS® technology used to make the gel produces the smooth, long-lasting results that patients appreciate. If you are interested in adding natural, soft volume to your lips or a smoothing of lip lines, this product performs like no other.
Who is a candidate for JUVÉDERM VOLBELLA® XC?
Candidates for JUVÉDERM VOLBELLA® XC are women (or men), over the age of 21, who would like to increase the fullness of their lips and/or soften lines around the mouth, using a product that results in a soft, natural fullness. There are several possible contraindications, and, your doctor will discuss your medical history with you before the procedure is performed. Be sure to tell your doctor if you:
Are allergic to hyaluronic acid or the lidocaine included in the formula to help anesthetize the treatment site and reduce any pain you might experience from the injections.
Are being treated with a therapy that would reduce the body's immune response, since this could increase the risk of infection.
Are pregnant or breastfeeding, since the use of JUVÉDERM VOLBELLA® XC has not been studied in these instances.
If you have a tendency to thick, hard scarring. Studies have not been done, and JUVÉDERM VOLBELLA® XC may result in additional scarring.
Have a history of pigmentation problems. JUVÉDERM VOLBELLA® XC has not been studied in these circumstances, and its use may cause changes in pigmentation at the treatment site.
What can I expect during the procedure?
Your doctor will wait a few seconds after the first lip injection so that the lidocaine can start to work. This will be followed by a series of small injections, until the desired fullness has been reached. Our Marina Del Rey lip injections may be alternated with gentle massage, so that the gel is distributed properly. Finally, a member of the treatment team may give you an ice pack to apply to the area to reduce pain and swelling.
Are there any precautions I need to take?
You will be given instructions, for both before and after treatment, to ensure the most comfortable experience during the procedure and the best, most long-lasting results possible. However, be sure to tell your doctor:
If you are taking any blood thinners, ibuprofen, aspirin, or any other medication that could prolong bleeding at the injection site. They may also increase the risk of bruising. Taking these medications is not necessarily a contraindication to being treated with our lip fillers in Marina Del Rey, however, both you and your doctor should be aware of the possible results.
If you have plans for any other type of treatment or procedure, such as a chemical peel, after being treated with JUVÉDERM VOLBELLA® XC. Such treatments should be carefully scheduled to avoid the risk of inflammation at the injection site.
Additionally, to limit the potential for redness, swelling and/or itching, avoid strenuous exercise and exposure to intense heat or sunlight for the first 24 hours after treatment. You may also need to hold off a bit before applying makeup to the area.
Is the JUVÉDERM VOLBELLA® XC procedure painful?
The lidocaine reduces any pain that might be experienced and, in clinical studies, patients generally reported a pain level of 3, on a scale of 0 – 10. This translates more to discomfort than actual pain, but your doctor can also apply a topical anesthetic to further reduce it if you have concerns.