Skin Rejuvenation
Revolutionary Skin Rejuvenation Services in Culver City
Dr. Sarshad is committed to providing you with the most advanced procedures available for skin rejuvenation and anti-aging. He is a highly, trained professional who excels in medical esthetic technology and only offers the best technologies on the market, including ALMI, a revolutionary skin rejuvenation procedure. Fraxel, IPL Photo Facials, PRP, CO2 laser resurfacing and 13 different chemical peels we are able to offer various treatment options for everyone and all skin types. At Cosmetique, we pride ourselves on providing dramatic results that are sure to change the way you look and feel.

Visiting a medical day spa for the first time for any of our rewarding skin rejuvenation services may cause some of our clients to have questions about our treatments, processes or prices. Please follow the link above to learn about our laser treatments, injectables like Restylane, and skin care products such as CosMedix, Sothys and Prevage MD.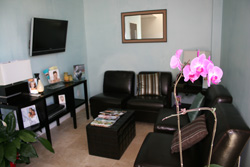 Skin rejuvenation treatments have moved into the twenty-first century with the advent of IPL (Intense Pulsed Light) for age-defying skin care. Our photofacials are non-invasive and address the problems of sun damage and photo-aging with gentle but powerful light treatments. You can learn more about this fascinating skin rejuvenation process by following the link above.
Skin Rejuvenation Patient Testimonials
My skin looks smoother
Written On October 3, 2014
Hi,
Just wanted to thank you helping me. I was really nervous to have anything done with lasers, so as you know I came in to find skin care products to help repair some of the spots and lines on my face from the sun over the years. When the doctor recommended fraxel, I wasn't sure, but then he explained everything thoroughly and showed me photos, so I figured I'd give it a try. I'm going on my 3rd of 5 treatments now and couldn't be happier. My skin looks smoother and I feel it has taken at least 7- 10 years off when I look back at photos. Thanks again!
By J.P.
I was happy and more than satisfy with the service that I received


Written On February 15, 2017
From Yelp.com
Doctor removed some skin tags quickly and pain free. Very clean and friendly office
By Patricia C.