Detoxified Non-invasive Lipo B Injections in Culver City
Cosmetique Aesthetics offers Lipo B injections that are safe, simple and non-invasive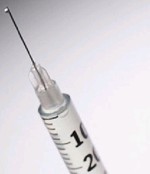 Struggling with weight loss can be frustrating. What if there was a safe, non-invasive way you could boost your metabolism and decrease built-up fat deposits? Call us at 310-837-5555 to learn how we may be able to help.
The Lipo B vitamin cocktail may be your ideal solution. Cosmetique Aesthetics offers Lipo B injections that are safe, simple and non-invasive.
Some of the benefits offered by Lipo B injections include:
Boosts liver function
Increases the flow of fats and bile from the liver and gallbladder
Decreases fat deposits
Speeds up your metabolism
Helps naturally remove fat
The Lipo B cocktail contains the lipotropic agents Methionine, Inositol, & Choline. These Lipotropic agents have been used to control body fat through fat metabolism, glycogen storage, plasma protein synthesis and detoxification.
Methionine and Vitamin B12 are the nutrients required in our body's production of Choline
Methionine causes a reduction of fats and aids in lowering cholesterol. Choline aids in the emulsification of cholesterol, thereby reducing the potential arterial deposits. Inositol participates in the regulation of serotonin, a neurotransmitter known to control mood and appetite.
Plus, the Lipo B cocktail can be administered by itself or in conjunction with our medical weight loss program.
Contact Cosmetique Aesthetics for a free consultation today to learn more about our Lipo B injections.
Read Violet T.'s review of Cosmetique Aesthetics on Yelp