VASER Shape
Effective Vaser Shape Fat Reduction Treatment in Culver City
VASER Shape is a non-invasive contouring device that combines ultrasound and massage to break up fat
VASER / QUANTAS reshapes the body with no pain and no downtime and generally requires 3-5 treatments, although some people see difference after just one session. Patients can reasonably plan to see 3-4 inch reduction over the course of 4-5 weeks of treatments.
While Vaser Shape is not a replacement for liposuction it is a wonderful non-surgical alternative. It is safe and effective on both males and females. CoolSculpting is another alternative non-invasive, fat-reduction procedure that may fit your needs.
What body area can be treated with VASER Shape?
Abdomen
Back
Arms
Love handles (hips)
Buttocks
Thighs
The VASER Shape procedure advantages:
NO anesthesia!
NO pain!
NO incisions!
NO surgery!
NO recovery!
VASER Shape Treats:
Cellulite improvement by skin tightening, smoothing & shaping your body
Localized areas of excess fatty tissue
Slimmer appearance
Improved local blood circulation
Reduces pain and swelling (especially that can occur after liposuction)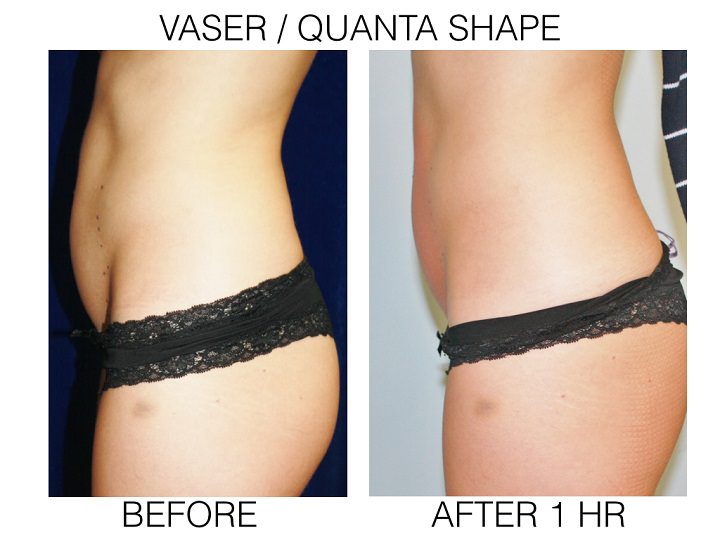 Why VASER Shape over other non-surgical body contouring devices?
Treats body tissues more deeply than other alternative devices
Has immediate results
Greater reduction in depth of the deep fat layer
Affects a larger volume of fatty tissue
Provides skin tightening
Reduction can be observed with one treatment
Can treat all body areas (except the face and neck)
May "custom" shape the body areas
Provides the most patient satisfaction and comfort of all devices studied
Create the body you have always wanted without surgery. Call today to schedule your free Vaser Shape consultation.