Meet the Staff
Connect with the Skin Care Professionals in Culver City, CA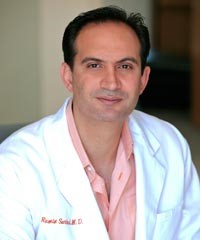 Dr. Ramin Sarshad M.D.
Medical Director
A graduate of George Washington University School of Medicine who completed his residency at Loma Linda University, Dr. Sarshad has been the Medical Director of Cosmetique Aesthetics since 2005. Dr. Ramin Sarshad is a caring professional that aims to provide only the highest quality aesthetic treatment for his patients. In practice for over 20 years, with a focus on aesthetics for over 12 years, he earns the trust of clients by personally meeting with every patient to discuss their treatment plans. His passion for beauty and artistry gives his patients the best natural results always applying exceptional standards of operation.
Rose Flores-Gomez
Aesthetic Consultant, Surgical Coordinator and Medical Aesthetician
Rose is our Aesthetic consultant, surgical coordinator and a medical aesthetician. Rose brings decades of experience in management, cosmetic surgery and skin care to Cosmetique Aesthetics. Rose is passionate about providing guidance, education and seeking the best results for every patient. Our Patients benefit from Rose's vast experience in the aesthetic field. Rose is a professional non invasive body sculpting expert that is focus on personalized treatments to provide patients with satisfying results. Her goal is to exceed your expectations with all levels of service and care that she provides. Rose is also bilingual in English and Spanish.
NAZZANEEN
Medical Assistant
Nazzaneen is a medical assistant at Cosmetique Aeshetics. She is dedicated to providing exceptional medical care to patients in a professional and welcoming manner. Working side Dr. Sarshad, she strives to achieve her patients' goals while being the most welcoming, receptive and considerate of their values. With a passion for skincare, her ultimate objective is to be practicing as a Physician Assistant. She is also tri-lingual in English, Hebrew and Farsi.
Contact us to learn more about the aesthetic procedures offered by Cosmetique Aesthetics.