Latisse
GET BIG BOLD LASHES
Revitalash appeared on the market in November of 2007, and quickly became a top seller in Medical Spas across the country. All of a sudden, a "new" formula came out in November of 2008, which after doing some homework, we found was missing the primary active ingredient. Turns out the primary active ingredient, Bimatoprost Ophthalmic Solution 0.03%, had been patented by Allergan in 2001. So, RevitaLash and several other companies can no longer use it….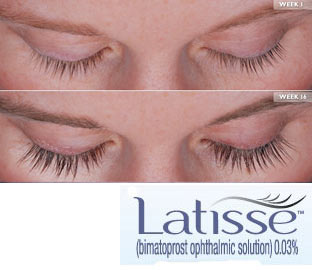 Did you know you can buy Latisse online?
We all knew it wouldn't be long until Allergan introduced their own formula for the treatment Hypotrichosis (the medical term for "inadequate eyelashes"). LATISSE ™ is the first and only prescription treatment approved by the FDA for the cosmetic growth of eyelashes. In the clinical study presented to the FDA, 78% of participants reported a significant increase in ALL of the following three measurements by week 16: length, fullness, and darkness.
How to Apply Latisse ®
Latisse is a once-daily prescription treatment that makes your own natural lashes longer, thicker and darker over time.
LATISSE ™ on average makes lashes 25% longer, 106% thicker and 18% darker after 16 weeks of use. Like every beauty routine, applying LATISSE ™ is all about consistency and precision. As the treatment progresses, you'll begin to see changes gradually. After applying LATISSE ™ each night for 16 weeks, full results will be visible.
COMMONLY ASKED QUESTIONS ABOUT LATISSE
Q: What exactly does Latisse do?
A: Our Latisse treatments treat hypotrichosis (another name for inadequate eyelashes) by enhancing eyelash prominence as measured by increases in the length, thickness, and darkness of the eyelashes. It is approved by the FDA.
Q: How long can I use Latisse?
A: According to Allergan, the makers of Latisse, (see their newly launched website for more information, www.latisse.com) each prescription lasts 30 days, and there is no recommended stop time. The "peak effect" comes at roughly four months of use. Speak to your prescribing doctor about the length of treatment that's right for you.
Q: Will my lashes stay longer forever?
A: After you stop using Latisse they will slowly go back to normal with your next eyelash growth cycle (this varies from person to person but is between a few weeks to a couple months).
Q: How long before I start to see results?
A: Eight weeks, with peak results around four months.
Q: Can I use Latisse if I've had Lasik or wear contacts?
A: These are questions for your doctor. You should not use Latisse if you have an active eye condition, including an eye infection, or have broken or irritated skin on your eyelid. And if you are using products for elevated intraocular pressure, be sure to discuss this with your doctor. Contact lenses should be removed prior to use of Latisee and may be reinserted 15 minutes following its application.
For other possible side effects of Latisse, go to www.latisse.com and speak with your doctor.
Interested in learning more about our Latisse treatments? Contact us at our med spa today.
Already been in and precribed Latisse? If so, you can purchase Latisse online!