Medically Supervised Weight Management Program in Culver City
Cosmetique Aesthetics proudly offers 2 different medically supervised weight loss programs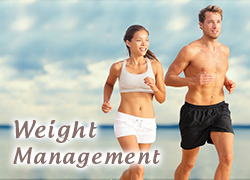 Whether you are looking to lose 10 pounds or 40 pounds, we can help you achieve your goals. At Cosmetique we customize our weight loss programs for fit each client's needs to ensure safe and rapid weight loss. Phentermine or HCG Diet combined with customized vitamin shots and meal plans are used to get you started in the right direction to help achieve you goal weight. With the help of Dr. Sarshad, our goal is to kick start your weight loss program and set you up for healthy weight loss, in addition creating a long-term strategy to keep the weight off. Call us at 310-837-5555 to learn more.
Read Brie M.'s review of Cosmetique Aesthetics on Yelp
Weight Management by Cosmetique Aesthetics, Medical Supervised
Most patients see a 10-12 pound weight loss in the 30 day program.
Results may vary.
Cosmetique offers a medically supervised weight loss program, customized to each client's needs for safe, rapid weight loss.  The program is customized for each person, but is usually comprised of 3 parts:
1) Customized Vitamin Injections
Not only do the vitamins help balance the body, and therefore help reduce cravings, they also increase energy levels to aid in workouts and focus.
Vitamins are injected directly into the bloodstream, rather than taken orally and absorbed through the stomach. The direct route means no digestive upset, and offers far better absorption than the vitamins that can ingested in pill, tablet or liquid form.
2) Phentermine Prescription
Phentermine is the most commonly prescribed prescription appetite suppressant currently in use. Phentermine has been approved by the FDA since 1959 as an appetite suppressant. It works by stimulating the hypothalamus gland and affecting certain neurotransmitters to decrease appetite.
Phentermine should not be used as a substitute for proper diet or exercise, but when used in conjunction with diet, exercise, and behavior therapy, phentermine may help with weight loss while learning new ways to eat and exercise.
3) Customized Meal Plan
A customized menu plan is created for you to help make meals balanced, healthy and less stressful as far as making decisions. Further, it can be used to create a long-term strategy to keep the weight off.
If you're looking for weight loss treatments in the Los Angeles and surrounding areas, contact our med spa today for an appointment.